Naturgy published its January-September results, reporting a 5% rise of the EBITDA. In its statement, the company highlighted that the results of the first nine months of the year are in line with the goals established in its 2018-2022 Strategic Plan.
In this report, the energy company highlights that the results obtained exceeded the market consensus up to September 30. It also adds that this performance comes "despite a lack of growth in regulated businesses and a slowdown of liberalized businesses in a more adverse energy scenario than seen in the previous year."
Also, Naturgy shares went up by 0.29% at 13:15 in the Madrid stock exchange.
Naturgy increases net benefit
According to these results, the company's EBITDA went up by 5%, compared with the previous year, reaching €3.3 billion. Furthermore, it obtained a net ordinary income of €991 million.
"The company has thus managed to exceed forecasts from the 15 analyst firms that participated in the preparation of this report, which estimated an average EBITDA of €3.2 billion, as well as a net income of €893 million," the statement continues.
Naturgy becomes one of the main investors in renewable energies in Spain in 2019 and exceeds market forecasts with its results until September. #Naturgy9M19 pic.twitter.com/9YXTpOyWHN

— Naturgy (@Naturgy) October 30, 2019
Expansion and new markets
On the other hand, Naturgy reinvested the resources generated by the sale of its assets in Chile to obtain the joint control of Medgaz with Sonatrach, Chairman Francisco Reynés informed.
On October 1, 2019, the group completed the purchase of Transemel, an energy transmission subsidiary in Chile, for €155 million.
Similarly, on October 15, Naturgy reached an agreement for the acquisition of 34.05% of Medgaz for €445m. The transaction will allow Naturgy to transform its current 14.95% stake in Medgaz from a financial investment with very limited governance rights, into a strategic stake which will allow the joint control of the Medgaz together with Sonatrach.
Los primeros nueve meses marcan un hito en la compañía, con una inversión en renovables cercana a los 400 M€, la mayor de nuestra historia. #Naturgy9M19 https://t.co/LIvKW7G91n pic.twitter.com/FT8ncam01n

— Naturgy (@Naturgy) October 30, 2019
Naturgy is also moving forward with the implementation of its efficiency plan and the optimization of its business backlog, Reynés stressed. In this sense, it moved its efficiency plan ahead and hopes to obtain at least €150 million by the end of 2019, compared with the forecasts that predict €100 million.
Dividends and share buy back program
The Board has approved a second dividend payment of 0.473 €/share on November 12. This dividend is added to the share buy back program, in line with the commitment pledged in its 2018-2022 Strategic Plan.
Furthermore, in 3Q 2019, it completed the amortization of 16,567,195 treasury shares, equal to 17% of the capital, with the corresponding rise of the profits per share.
During the first nine months of the year, the energy company reduced its net debt by €176 million, despite the significant investments made in renewables and electricity networks and its shareholder remuneration commitments.
Increasing renewable energies
During the first nine months of 2019, the company earmarked nearly €400 million for renewable power investments and development.
In detail, Naturgy invested more than €1.1 billion in this period. These resources were mainly earmarked for renewable power development, with 290 MW of solar and wind projects commissioned in Spain during this period. This way, the country's installed capacity is now near 1.5 GW (+25%).
In 3Q 2019, Naturgy became the first company to connect to the grid the total amount awarded in Spain's latest solar PV tender: 250 MW.
It also invested in the development of 180 MW a wind power project in Australia, scheduled for commissioning in 3Q 2020.
Moreover, it worked on developing 324 MW of wind and solar capacity in Chile that will be operational in 1Q 2021.
Results per business
As to the business units, Gas&Power obtained an ordinary EBITDA of €964 million (-3.9%).
For its part, Infrastructure unit EMEA obtained an ordinary EBITDA of €1.4 billion.
The Infrastructure business grew in the southern region of Latin America (Chile, Argentina, and Brazil) where Naturgy grew its EBIT (earning before interests and taxes) to €716 million.
Meanwhile, in the northern region (Mexico and Panama) it obtained €281 million.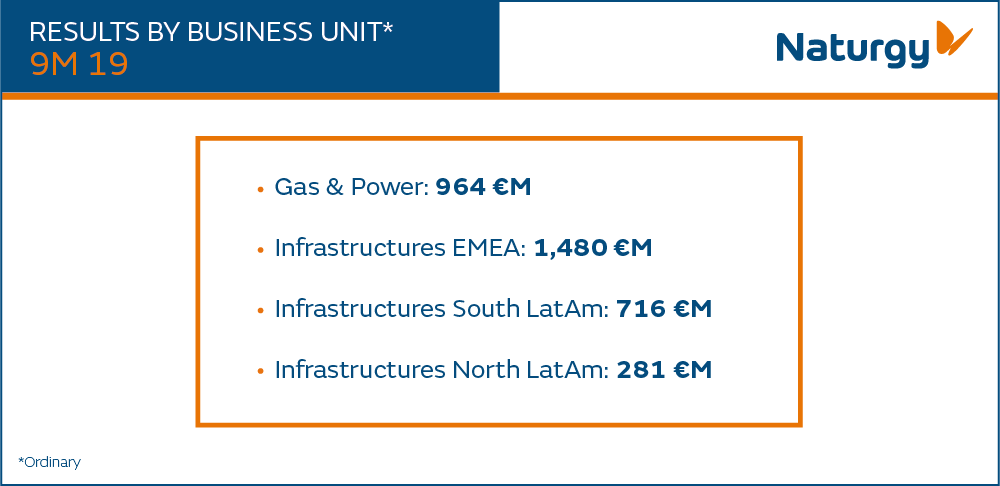 For more information, check Energía16